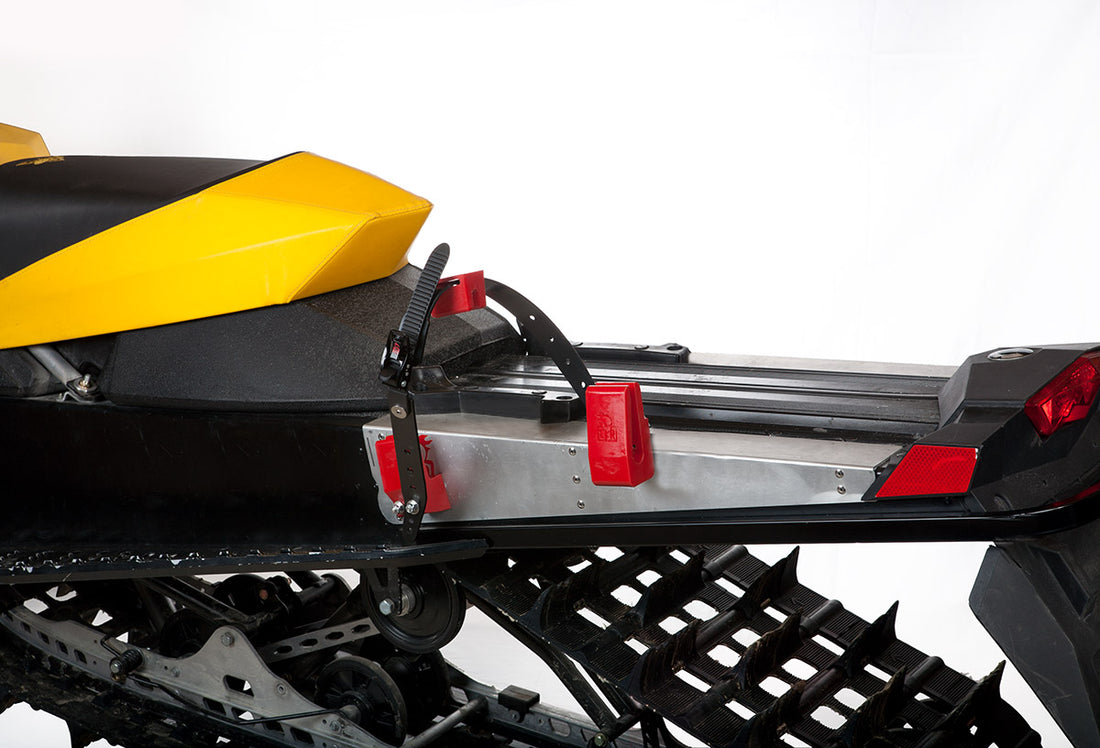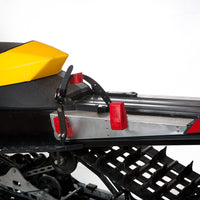 The snowboard rack tested and approved by snowboarders Eric Jackson, Bjorn Leines and Mads Johnson. The Metal snowboard rack System is one of the lightest snowboard brackets on the market weighing in at 2lbs. Tandem riding with your buddies is now easy as pie with your snowboards on the rack and not in your back packs hitting you in the back of the head. Having snowboards fastened to the snowmobile allows you to negotiate tricky snowmobiling situations getting to your favorite big mountain line or jump spot.
The Metal Snowboard Rack system is made for the minimalist who wants to be able to carry his or her snowboard and nothing else. The CFR Metal Snowboard Rack System carries one snowboard on the side of your snowmobile. (No other rack required) Another Metal Snowboard Rack System can be purchased to carry two snowboards. The CFR Top mount Billet bracket (Sold separately) can be purchased if you need to mount the bracket to the top tunnel of your snowmobile.
Product Specs
The CFR Metal Snowboard Rack System bracket bolts to the side of 2008 - 2016 Ski-Doo XM and XP snowmobiles.
Another snowboard can be carried by purchasing another Metal Snowboard Rack Systems.
A cost-effective way of carrying a snowboard on your snowmobile.
Lightweight Nylon parts are infused with resin that makes them extremely strong and can handle -100 degree cold temps.
Custom made Injected molded straps that can handle temps as low as -100 cold but will break in severe roll overs to prevent damage.
Ratchets and Ladders are custom made for superior ratcheting lock down.
All mounting Hardware included is made from high grade stainless steel.(Super strong and rust Free)
Proudly made in Canada.
Instructions
Installation Video for Metal Snowboard rack system.